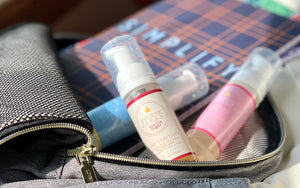 Car Safe
Fitting in most cupholders, it's perfect for your car. It contains ZERO alcohol. Car Safe -24F to 212F and non-flammable. Won't stain upholstery, interior or leather
Sanitize on the go
Moisturize & sanitize
Our foaming sanitizers, available in a variety of rich scents, kill germs without the harsh effects of alcohol. Enriched with aloe, naturally derived glycerin and coconut oil - a safer alternative.
Alcohol-Free Sanitizers
Proudly Made in USA
Our trusted products care for the hands that care for our communities, going above and beyond for our customers - because we believe in care that goes beyond clean.
Learn More About US
safe for the whole family
Hygiene Clean™ is formulated to be gentle on skin, even on the smallest hands. Use Hygiene Clean™ on the hands you care about the most.
say no more...shop now
kid friendly scents
With Hygiene Clean, you can be sure that your kids' hands will be germ-free AND avoid becoming irritated with harsh chemicals.
Shop Kids Favorites
Kills 99.9% of common germs
Our foaming, hand sanitizers are effective at killing 99.9% of common germs for up to 4 hours* and contain zero alcohol.
Check out more benefits
★★★★★

Finding a hand sanitizer that doesn't dry and burn my hands while also smelling wonderful, is my lucky day!! Thank-You Hygiene Clean!!!"

Holly H.
★★★★★

Thanks for making a product that doesn't dry my son's hands out! He can take the smaller bottles in his backpack and leave one in his desk! I LOVE the smell of all of them and am so happy to have finally found a product that we both can use and love!"

Angie H.
★★★★★

Absolutely love Hygiene Clean hand sanitizers! Love that they can be kept in the car, love how they make my hands feel soft. The clean cotton scent smells so fresh & clean and my youngest child loves the bubblegum scent - can't wait to try the other scents they have!"

Jennifer O.
★★★★★

Love this hand sanitizer doesn't dry my hands, will continue to purchase and tell my friends and family. Finally a great hand sanitizer without alcohol."

Jenna C.
★★★★★

Hands down, one of the best sanitizers I have used."

Abby L.
★★★★★

Doesn't leave hands sticky like some do and scent doesn't knock you over like others."

Alex R.
★★★★★

I will use foam from now on. It absorbs so fast, easy to open and apply. With the pump, you get just enough for your hands, unlike the liquid that usually takes a while to rub in after you accidentally squeeze out too much."

Lori C.